Contact Stephanie
Contact me to begin conquering your Enemies of Potential, or if you have any questions or comments. I'd love to hear from you:
Email: sshipper@mindspring.com
Phone/Text: (919) 572-2215
Join In
Connect with me on Facebook:

Newsletter Sign-up
Be sure to subscribe to my twice-monthly email, filled with information and support to help you overcome your enemies of potential and achieve the success in your life and work you know is possible.
* Your privacy matters! I will never share, rent or sell your contact information.
Personal Investment, Expected Amount of Time, and Self Care
It is most common for people to spend approximately 10-15 hours from beginning of treatment to finish for a standard trauma. Healing requires trust, commitment to do your homework, & a strong connection. I will refer you should I believe that the fit is not creating results very quickly.
For those who have multiple Traumatic Reactions/Phobias or Chronic Condition Related to Unresolved Loss and Fear treatment may extend over a few months. This is not standard treatment that goes on for years. My job is to restore your health and resilience so that I am unnecessary.
First sessions are 2.5 to 3 hours, allowing for a general overview of the problem, significant related history and a detailed map of how the symptom operates. The session culminates in a strategic piece of work.
Subsequent sessions are 1.5 to 2 hours and normally are spaced two weeks apart in order to allow for integration and homework, and roadtesting of the strategies.
It is essential that you plan downtime to sleep and relax after each session. Your brain has gone through a deep change. You need time to recircuit. Drinking lots of water is also important. Expect to need extra sleep and feel 'spacy' for a few days…this is normal when your brain is integrating.
Financial Investment
Fees are on a per session basis. I do not charge by the hour.
Packages of several sessions are available at a discounted rate.
Visa and Mastercard are accepted.
Cancellation Policy
All appointment cancellations must be made 24 hours prior to the appointment time.
Any cancellation within a 24-hour period is subject to a $85.00 cancellation fee unless there is a significant medical emergency.
Appointments are non-transferable.
Introductory & Intake Form
Please download and complete my Introductory & Intake Form.
Waiver
A waiver is required for any of Stephanie's services, please click here to view the waiver.
Introduction PDF
Do you know someone who needs to know about this?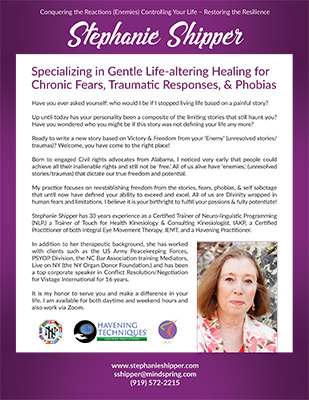 Free Workshop: After the Trauma…Restoring Freedom of Choice, Peace, and Present Time Awareness
This free 2 hour Brain-based Workshop introduces you to Havening…a group of gentle movements married to positive imagery and affirming words that change the feelings and neurochemical reactions and erase the encoded traumatic response.
Come along and witness the remarkable power of Havening and how it resolves traumatic response.
NEXT EVENT: More events coming soon…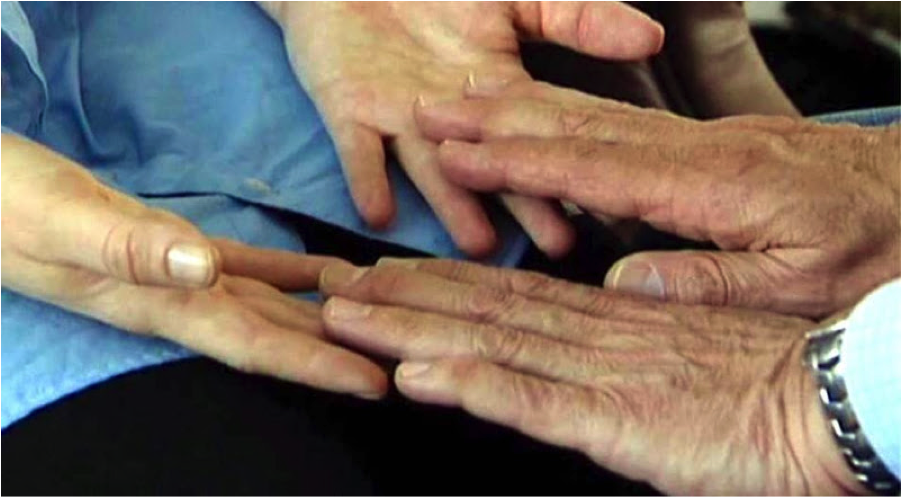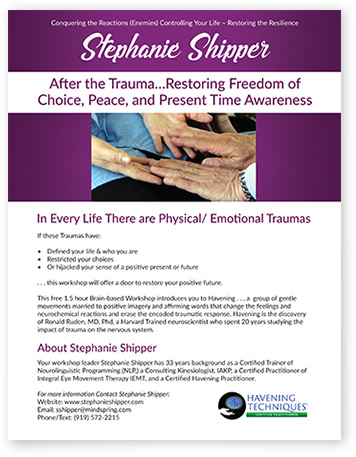 Stephanie Shipper's Services For Business
Stephanie Shipper, Expert Outcomes has spent 33 years training and consulting for top agencies and companies in the US & Canada. Please find her Business offerings at: http://www.polishingleadersintodiamonds.com